Navigation
Anmeldung
Geben Sie Ihre Mitgliedsnummer und Ihr Passwort ein, um sich an der DARC-Website anzumelden:
WAG Manager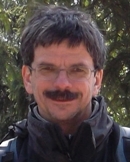 Worked All Germany Contest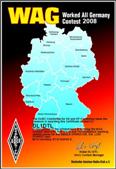 The Worked-All-Germany Contest is a typical "Single-Country-to-DX" contest with a long lasting tradition and usually more than 1500 log submitting participants plus several thousand more being active. So WAG generates about 10 000 individual hours of competetive or relaxed activity and fun in our hobby. There are at least three reasons to enter the WAG:
- Test your equipment for the upcoming CQWW which is usually in the week after WAG.
- Investigate the conditions to central Europe, generally similar to the condx during CQWW.
- Collect German DOK for several DARC awards, especially the DLD which is supported by the DARC Contest Logbook.
But there is more to WAG-contesting: Our participants between 10 and 92 years of age report about the enjoyment of meeting a lot of old and new friends, going to unsual locations like qrp-expeditions to hilltops or sharing experiences of rigs, antennas, software and operating with rookies of all ages at Multi-Operator Stations. Besides a special Rookie category in WAG contest DARC also hosts a training contest for newcomers in the hours before WAG.

As an international participant you have to work German stations and DARC districts, which are part of the exchange, for multipliers. You will find outstanding activity with several thousand stations from Germany combined with moderate pileups and the bands not being too crowded. If you are operating from a semi rare country like TK or EA8 you will certainly generate some pile-ups. So we hope you'll enjoy WAG.
WAG says "Thanks to you all!"
It may be too early for a summary, but the impression is that a great time was had by the participants of WAG 2013. We want to thank ALL for their activity and contribution to this activity of thousands of hams worldwide - and tnx of course to St. Heaviside if he may be able and willing to read this - for condx we cannot call bad ;-)
It also seems that the coexistence of WAG and JOTA on the bands again improved further as scout stations around the world could meet and speak to each other unhampered. It seems that word about the contestfree segments spreads further and further and that the absolute overwhelming majority of contesters respects them.

For now - thank you again and we hope you have enjoyed WAG 2013 so much that we can say


Cu in WAG 2014!


First impressions of a weekend with fantastic condx
"It was fantastic condition!", wrote JA9CCG in in his soapbox comment und fellow countryman JP7DHE reported his very first EU-qso during WAG. The fabulous condx allowed for a new record level of activity: Already a week before the log deadline on 4th November we have an alltime high number of 1711 submitted logs from about 80 DXCC so far.
The condx even tempted some patients to move to their radios. "Due to flu only 706 QSOs, nevertheless much fun in WAG" (DK3YD) or "38.5 deg. feaver and head feeling swallowed - therefore only about 8h activity with dipole" (DK5DC), notwithstanding what the doctors of both would call "only"...
The now known age range of participants reaches from seven year old Lennart with training call DN6MRM (picture on the right; father DL5XL may be known to many also as DP1POL) and 29 QSOs up to Franz, DL2AXM (92), who squeezed out nearly 200 QSOs from his indoor mag loop in his 35th WAG.
We like to thank all stations from countries who are not regular every year-guests in WAG like FG8NY, 4U1ITU, OX5T, V31MA, JT1BV or V3A to name only a few. Biggun stations from Germany again reported a big number of qsos with received serial numbers of only 001 - still a bit puzzling that condx like this do not motivate to work more than only one station in the contest with a log of well equipped stations active from DL. Especially smallguns and qrp stations could make much use of such condx and good systems on the other end.
It is not yet known whether the rarest DL-multiplier was active: It is letter J, as there is no DARC-district with J but only a few special DOKs starting with J. In the submitted logs there is so far not one station with a J-DOK - but that does not mean they were absent. Definitively active were again a number of other special DOKs which really test the copying ability of the receiving station with unexpected combinations like IGS13 or 1813L (commemorating the big battle near Leipzig in 1813 when the allied troops of Russia, Prussia, Austria and Sweden defeated those of Napolen Bonaparte).
How do contesters stay alert and awake?
On our website (lower end) we recommended 100 refreshing seconds. On the submitted pics of participants we discovered some more means which we like to show. Who knows what it is on the lower right picture? Propositions and solution will be presented here ;-)


What has happened? We want to know
What was your most interesting, funny or disappointing moment in WAG 2013? Feel free to write in your soapbox (either in the soapboxlines ot your log or directly on our site) or mail us links to your site with reports, audios or videos.
You can submit pictures directly to our site to be viewed by all using this link . In the next weeks we will prepare an early report about the activity of this weekend, so we are happy about all contributions. Thank you in advance. Read experiences and scores of others in a 3830-WAG-digest.
Video above shows youth clubstation UR4PWC
Raw scores are out: You have claimed 'em - we will check 'em
Here are the claimed scores of WAG 2013 (results page). They are not yet checked for miscopied information or unverifiable contacts. They represent what is written in the logs with the exception of dupes or qsos out of the contest period which are already deducted. They are calculated based on the cty.dat file of November 9th.
Please check if you are grouped in the right category or whether the score is not grossly different to what your software calculated. Questions and hints send please to wag-info(at)dxhf.darc.de
The next weeks until the end of the year will see the actual logcheck, a bit more detailed described here on our site. It normally results in point deductions between 2 and 15 percent, in rarer cases even more or less. But there are also the so called "Golden Logs" without any errors. At the moment it looks like there may be a few "Golden Logs" even with three digit numbers of QSOs.
We hope to have the results ready at the end of the year. Then we will see how many of the potential recordbreaking scores will really best current records. In eight out of twelve (txing) categories there are scores higher than actual records.
A closer look at the record numbers of logs in WAG 2013
After the deadline 4th November we could happily report a new record number of logs submitted for WAG 2013. The logcheck will start with 1923 logs from 83 DXCCs which is an increase of 22 percent compared to the last two years which each yielded the recent high number of 1571. The same growth rate was noticed for DL as for non-DL participation: We received 975 logs from outside DL and 891 German logs (all figures now without checklogs so some difference to the overall 1923). Regarding categories only few categories differed remarkably from the overall growth rate. From non-DL participants the number of qrp-logs went up 44 percent to 72 logs. Remarkably CW low power had a higher increase with plus 28 percent than mixed low power which rose 13 percent.
In the German categories we had 47 percent more logs in the mixed high power category while the rest of the categories had a nearly equal growth.
See the number per categories on the graph (click for biger version).
The record participation unfortunately also brought a much higher number of problematic and at first not usable logs. The kind of problems ranged from unsuable formats like adif, jpg or edi to missing serial numbers, wrong category names or "individual cabrillo" log formatting. We hope that more participants will open their logs in a simple text editor to have a look how coloumns and header look like. It wil also speed up processing of logs. We now start with checking the loglines against each other looking for copying errors and unverifyable contatcts etc. The process described here on our webpages should take until the end of the year (we´ll have to check 576355 loglines - meaning that every log submitting participant made 301 contacts).
Stay tuned - and again thank you very much for your participation especially to hams in regions which don´t have the best skip and propagation to DL. You all make this such a lively event.
Cu 2014!
WAG - a big and lively prairie for you hunters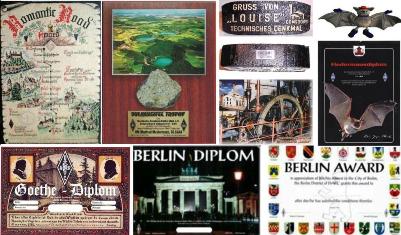 A contest like WAG is more than a competition and a big pool of activity to dive in for the fun of it. With much more than 1000 DL-stations on air from nearly as many DOKs it is also an endless prairie full of live for the award hunters. You may know the possibility to get your confirmed contest qsos credited automatically via the DCL (German Contest Logbook). It works for more than 20 awards including the whole application process if you have a LotW account.
But there is more to chase during WAG. DL stations' exchange is their DOK which is the base for a wealth of German awards of all difficulties. From the big list of the Diplom Interessen Gruppe a few appetizers. Upper row from left to right: Romantic [era not mood] Road Award (stations from 18 different DOKs between Füssen und Würzburg in Southern Germany counting); Vulkaneifel Trophy (stations from nine K-DOKs counting towars the plaque with a vulcano stone); "Louise Trophäe" (a 465 gramm piece of coal from a former briquette plant, now technical museum); Bat-Award (counting stations with M-DOKs) consisting of the diploma and as possible add-on a soft toy bat.
Lower row: Goethe Award (stations from former living places of poet Johann Wolfgang von Goethe to be detected by their DOKs); Berlin Diplom (twosided, requires stations from Berlin with D-DOKs or from DOKs Z20).

Hint: The booty will be bigger when you call CQ, too ;-)


WAG started SDR-recordings
WAG started with its 2013 edition a pilot project for SDR recordings. Activity in several band and time slots was monitored from three receiving sites, accumulating to nearly one Terabyte of data. The project serves for one reason to check for possible violations of the contestfree segments which were established to allow coexistence of WAG and the worldwide "Jamboree on the Air" (JOTA) of scouts. It also gives logcheckers an additional tool to control possible severe cases of rules violation. Not only given by propagation it is not aimed at total surveillance, but will be expanded step by step in the next years based on the experiences gained 2013.
First impressions
The potential for logchecking can not be underestimated. Band or mode errors, seemingly erratic exchanges that were really sent or even cases of qsos being removed by Multi-Op-stations to not get in problems with the 10-minutes rule can be detected. But every advantage has its price: The additionial quality is paid with more time consumed for the audio check. So it can not be applied for each and every qso. But definitely a big step.


On WAG´s own behalf
After 50 years of DL1DTL managing WAG the task shifted 2013 to DL8MBS, together with DL1RTL. We hope that participants will not notice any difference in how things are handled. There will not be any changes in WAG rules this year. That means of course, too, that the contestfree segments as part of the rules remain in effect so that WAG and JOTA can coexist this weekend with as little interference as possible. So we invite all contesters to join the activity in WAG and hope to meet you in October. And now:
BIG THANKS to Klaus, DL1DTL
Logging programs help with contestfree segments
Not reading our rules before operating or the "heat of the activity" may cause participants to tune into the segments defined as contestfree in the rules. To prevent such unwanted incidents your logging software can help. When using CAT you will be warned automatically using newer versions of UCXLog, DXLog, HAM Office or SD. Win-Test allows this also with only a few clicks before the start (see here how easy to do). Other loggers may follow and will be mentioned then, too.
In the meantime WAG says "Thank you very much!" to the follwing helping: DL7UCX, 9A5K, ARCOMM, EI5DI and DL6RAI. If your logger does not support this function simply download this tiny pdf-file with the contestfree segments and place it as small window on your operating screen like on the clickable picture on the right.