Navigation
Anmeldung
Geben Sie Ihre Mitgliedsnummer und Ihr Passwort ein, um sich an der DARC-Website anzumelden:
WAG Manager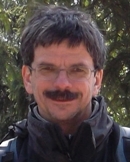 Worked All Germany Contest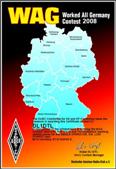 The Worked-All-Germany Contest is a typical "Single-Country-to-DX" contest with a long lasting tradition and now more than 1900 log submitting participants plus several thousand more being active. So WAG generates about 10 000 individual hours of competetive or relaxed activity and fun in our hobby. You collect German DOK for several DARC awards, especially the DLD which is supported by the DARC Contest Logbook. Our participants between 10 and 92 years of age report about the enjoyment of meeting a lot of old and new friends, going to unsual locations like qrp-expeditions to hilltops or sharing experiences of rigs, antennas, software and operating with rookies of all ages at Multi-Operator Stations. Besides a special Rookie category in WAG contest DARC also hosts a training contest for newcomers in the hours before WAG.

As an international participant you will find outstanding activity with several thousand stations from Germany combined with moderate pileups and the bands not being too crowded. If you are operating from a semi rare country like TK or EA8 you will certainly generate some pile-ups. So we hope you'll enjoy WAG.
Please check whether you have received a confirmation mail! If not, please submit again via one of the two possibilities. There was a software problem with the upload tool which now works again.


Thanks for being in WAG 2014 - with special guests JR and X1
Thank you everyone for being active in WAG 2014!
We hope you had fun, enjoyment, success or whatever you expected. As hosts of this party we are not responsible for the one very unwelcome guest shown at this picture from NOAA: A real X1 flare sunday morning then attenuating the bands. So it has been wise to harvest especially 10m already Saturday evening - notwithstanding than 10m didn't die after Mr.X1's appearance. Also overall activity continued so that even with only three hours contest time left there were only 11 logs submitted. The first stations crossed the 1000-QSO mark Sunday morning.
Among all you very welcome guests we want to name one first: Felix, DL6JF, operated under DK0JRS, bringing our mysterious 26th multiplier on the bands. Its special DOK counts for the J-muliplier which is only available via special DOKs as there is no district with letter J.
Another special activity was DL0WRTC celebrating the decision to have World Radio Team Championships 2018 in Germany (and seemingly with a record-endangering score).
Regarding less welcome kinds of activity we will have to look into some already now known cases of operating in the contestfree segments Satruday evening on 40m SSB. Further investigations and listening to SDR-recordings are now necessary before possible penalties.
Now we'll have to wait for the real scores to come. We hope to present the claimed scores shortly after the deadline Monday, 3rd November. Please check this site regularly as it will not only be updated with more impressions of WAG 2014 but also with news about the checking process. We hope to get results out until the end of the year. So stay tuned here or via twitter. If you have submitted a log please check the robot answer carefully and take it serious (i.e. in case of "not good quality - fix and resend"). It also contains the password for access to your detailed error- and score report after the logchecking is done. Any questions please to wag-info(at)dxhf.darc.de
Thank you again and already now we wish CU in WAG 2015!
WAG - a big and lively prairie for you hunters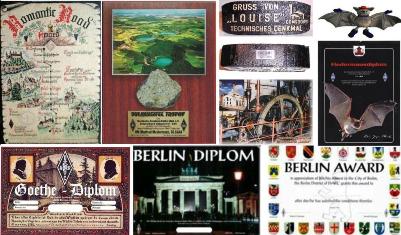 A contest like WAG is more than a competition and a big pool of activity to dive in for the fun of it. With much more than 1000 DL-stations on air from nearly as many DOKs it is also an endless prairie full of live for the award hunters. You may know the possibility to get your confirmed contest qsos credited automatically via the DCL (German Contest Logbook). It works for more than 20 awards from "classics" like DLD or WAE to regional awards, too.
But there is more to chase during WAG. DL stations' exchange is their DOK which is the base for a wealth of German awards of all difficulties. From the big list of the Diplom Interessen Gruppe a few appetizers. Upper row from left to right: Romantic [era not mood] Road Award (stations from 18 different DOKs between Füssen und Würzburg in Southern Germany counting); Vulkaneifel Trophy (stations from nine K-DOKs counting towars the plaque with a vulcano stone); "Louise Trophäe" (a 465 gramm piece of coal from a former briquette plant, now technical museum); Bat-Award (counting stations with M-DOKs) consisting of the diploma and as possible add-on a soft toy bat.
Lower row: Goethe Award (stations from former living places of poet Johann Wolfgang von Goethe to be detected by their DOKs); Berlin Diplom (twosided, requires stations from Berlin with D-DOKs or from DOKs Z20).

Hint: The booty will be bigger when you call CQ, too ;-)


On WAG´s own behalf
After 50 years of DL1DTL managing WAG the task shifted 2013 to DL8MBS, together with DL1RTL. We hope that participants will not notice any difference in how things are handled. There will not be any changes in WAG rules this year. That means of course, too, that the contestfree segments as part of the rules remain in effect so that WAG and JOTA can coexist this weekend with as little interference as possible. So we invite all contesters to join the activity in WAG and hope to meet you in October. And now:
BIG THANKS to Klaus, DL1DTL
Logging programs help with contestfree segments
Not reading our rules before operating or the "heat of the activity" may cause participants to tune into the segments defined as contestfree in the rules. To prevent such unwanted incidents your logging software can help. When using CAT you will be warned automatically using newer versions of UCXLog, DXLog, HAM Office, TR4W or SD. Win-Test allows this also with only a few clicks before the start (see here how easy to do). Other loggers may follow and will be mentioned then, too.
In the meantime WAG says "Thank you very much!" to the follwing helping: DL7UCX, 9A5K, ARCOMM, EI5DI, N4AF and DL6RAI. If your logger does not support this function simply download this tiny pdf-file with the contestfree segments and place it as small window on your operating screen like on the clickable picture on the right.