DX Mitteilungsblatt (DX-MB)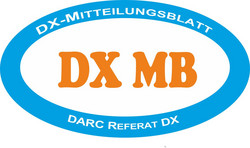 The DX newsletter has been an important source of information for the committed DXer for many years. It is published weekly in German and English and provides up-to-date and accurate information about DX activities.

For many years, the DX-MB was mailed by the DARC. Distribution has been dominated by e-mail for several years. The amateurs are provided with the latest information quickly and reliably every week.

The DX-MB owes its success to the tireless work of many editors and helpers:

current:

Klaus, DL7UXG (current editor)
Andreas, DK5ON (IOTA / SOTA / WWFF / COTA-News)
Oliver, DJ9AO (translation)

former employees:

Fabian, DJ1YFK
Rob, DL7VOA
Helmut, DL7MAE
John, DK8JB
Friedrich, DL4BBH
Ric, DL2VFR
Fredy, DE0MST
Karlfried, DL1EK
Michael, DJ5AV
Uwe, DL9GOA

The DX-MB is lived Ham spirit!
E-mail subscription

The DX-MB appears in text format and in PDF format (with pictures, etc.).
PDF

PDF
DX-Mitteilungsblatt 2022 (PDF)
TXT

TXT
DX-Mitteilungsblatt 2022 (TXT)
PDF

PDF
DX-Mitteilungsblatt 2021 (PDF)
TXT

TXT
DX-Mitteilungsblatt 2021 (TXT)
PDF

PDF
DX-Mitteilungsblatt 2020 (PDF)
TXT

TXT
DX-Mitteilungsblatt 2020 (TXT)
PDF

PDF
DX-Mitteilungsblatt 2019 (PDF)
TXT

TXT
DX-Mitteilungsblatt 2019 (TXT)
PDF

PDF
DX-Mitteilungsblatt 2018 (PDF)
TXT

TXT
DX-Mitteilungsblatt 2018 (TXT)
PDF

PDF
DX-Mitteilungsblatt 2017 (PDF)
TXT

TXT
DX-Mitteilungsblatt 2017 (TXT)
PDF

PDF
DX-Mitteilungsblatt 2016 (PDF)
TXT

TXT
DX-Mitteilungsblatt 2016 (TXT)